While Packaging-Atlanta has been around for decades, our story remains the same. We were built from the ground up in 1983 and have experienced steady growth due to our high standards, uncompromising ethics and dedication to packaging perfection. Packaging-Atlanta started out as a single-machine operation, slowly adding more equipment to handle increased demand for intriguing packaging. Fast forward to present day and we are a fully-equipped business utilizing top-notch equipment for all packaging projects. We're not just content to git 'er done; we challenge clients to think "inside the box" to create bold and innovative packaging. We pair this with white-glove service, high-quality packaging and quick turnaround times so you can do what you do best: Showcase and sell your products to the world. Our team is made up of business-minded, creative and inventive brains who take pride in our work. As a collective whole, we offer decades of experience in the packaging industry and customer service. In fact, our dedication to customers through honest communication and caring attitude is why we remain in business today. Shoot us an email or give us a call to see how we treat Packaging Atlanta partners.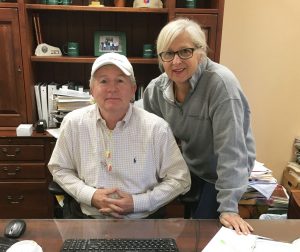 Pat and Martha Haddon founded Packaging-Atlanta shortly before they married in 1983. They had one goal in mind: to create a service-oriented packaging company with quality products. Over the years, they have sustained growth, increasing capacity, customer base and their product lines.
As co-owners, they are still very active in the business, constantly looking for opportunities that allow for future growth for both their team and company. They seek out innovative solutions to provide their customers with the best packaging out there.
We work with a diverse range of clients creating everything from pizza packaging to die cuts and displays. We work with some of the greatest clients in the world and look forward to our partnership with you. Curious about our work? Come say hello and learn more about what we're doing for our customers.